I have been messing around with the rug/trivet making and decided that the trivets are okay but the rugs don't have enough thickness in them. I have had them in my kitchen (not these ones) and after awhile they act too thin and my feet are always getting caught on them. I had that traction runner stuff under them too.
To only last a month or so and have to be replaced is way too much work for that. I have decided to go out of the rug business.
Check out this paper pieced dog (eyes are done with a liquid Sharpie). It is three sections; head, body and tail section. Isn't it adorable? I got it from my sister. It was very easy to put together.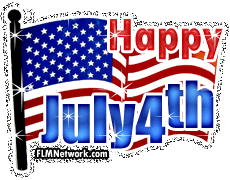 I came across this moving 4th of July (my second favorite day) sign awhile back and saved it to use on the big day. I spent quite a lot of time looking for it on the morning of the 4th. I just found it. It's pathetic.